As part of continuous effort to provide a great user experience and user friendly tool to order your data we have made the following updates:
Performance:
-We have upgraded the current technology we use to help enable us increase performance on the whole site saving you time and providing a better overall user experience.
Features & Enhancements SalesLeads360 v6:
- Copy And Paste Zips – If you want to do a search using zip codes and you have a long list you would like to use, we have implemented a feature that allows you to copy and paste the zip codes you want rather than entering in each one individually.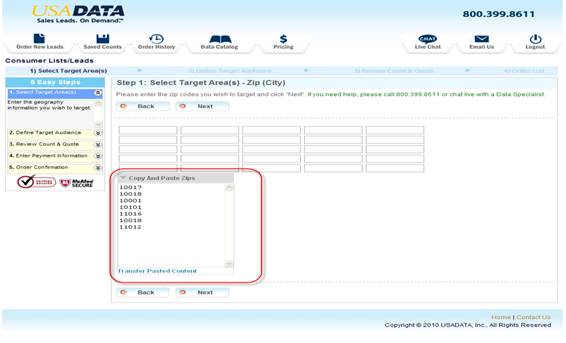 - Order History/Saved Count: - On the Saved Counts and Order History screens you now have the ability to search for your order rather than screen scrolling through all the orders/saved counts that you are looking for. There are two simple ways; you can search by order name or Order number. It is ok if you don't remember the full order name or the order number, you can enter the words/numbers that you can remember from any part of the order name/number and we will return to you every order/saved count that contains those values.

- Delete Saved Count - You now have the ability to clean up any saved count requests that are no longer needed by simply selecting the saved count(s) you no longer need and clicking delete: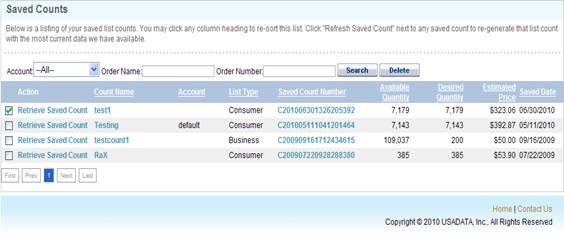 - Pricing Display - We have improved the way you can view the low pricing that is available to you. Now when you click on pricing you will see a pop up where you can select the data source you want to see the pricing for rather than scrolling through the entire screen: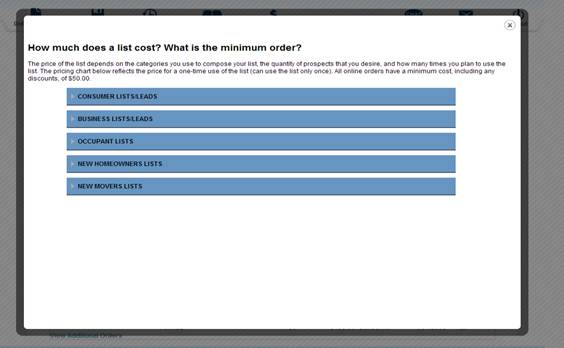 If you click on any of the data source bars you will see a drop down showing you the pricing for the elements within the data source.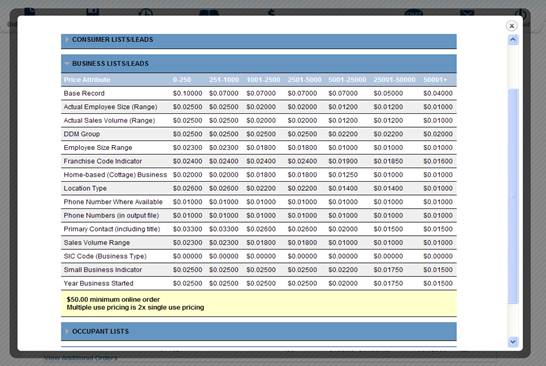 - Define Target Audience - When targeting your demographic you now have the ability to select multiple targets when REMOVING criteria (e.g. Shift+click) like you can when adding criteria.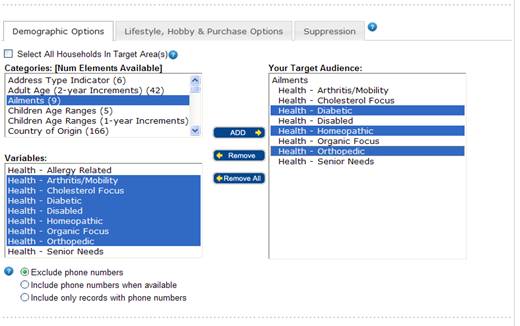 -When you add additional ranges of criteria from a group (e.g. adding more Adult Ages to some that are already selected), the display will re-order the selected criteria. Previous any additional selection from the same criteria would have been displayed at the end.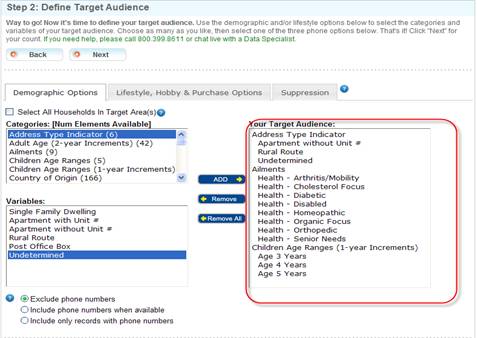 Bug Fixes:
Most sites are designed for Internet Explorer which was the standard for some time. However times change and now many people use different browsers such as Safari, Firefox, Opera, Google Chrome to name a few. Along with the various browsers we also consider the version of those browsers. While going through the application using the various browsers we noticed some issues that need to be addressed. Below you will see a list of items that have been addressed in this release on the various browsers and the various versions:
Chrome 5.0 Apple 10.3 and Firefox 2.x
-When using the keyboard and you tab through the various fields it will skip State and Zip fields and jump straight to Telephone. This has now been resolved.